The Ovechkin Era
Alex Ovechkin has scored many highlight reel goals throughout his career. One goal that will be shown for years to come happened on February 18, 2009 against the Montreal Canadiens. Ten minutes into the opening period, Montreal was leaving their zone on a pretty routine breakout, when one of the Montreal defensemen sent a pass just a bit too far for Roman Hamrlik to reel in. Alex was just coming on the ice from the opposite side as the puck went off the boards, just a few feet in front of Hamrlik's stick. Alex chipped the puck off the boards, did a spin-a-rama around Hamrlik, collected the puck and skated in on Carey Price with Kyle Chipchura closing in. Alex leaned in as Chipchura hauled him down, but Alex was able to keep one hand on his stick and flip the puck just past Price's skate and into the net.

The puck shown above is that which Alex Ovechkin put past Carey Price to score one of the most amazing goals in his incredible career.
---
Nicklas Backstrom - First Game, Assist and Goal
Nicklas Backstrom wore this jersey in his first NHL game on Oct. 5, 2007 against the Atlanta Thrashers. He got his first point (assist) in that game. On Nov. 8, 2007, he was wearing this jersey when he scored his first NHL goal, which turned out to be the game winner. He was also wearing this jersey for his first pre-season game on Sept 16, 2007 in Carolina. On November 22, 2007 Bruce Boudreau took over as the Capitals' coach. The next night, Backstrom would score an OT goal to beat Philadelphia 4-3. This would be considered the turning point of the season as Washington compiled a 37-17-7 record under Boudreau after going 6-14-1 to start the season.
---
MVP!
In the 2007-08 season, Alex Ovechkin became the first Capital to win the Hart Memorial Trophy as the league's most valuable player, capturing 128 of 134 first-place votes. It was the first of three Hart Trophies in his career. He would also be the first Capital to win the Lester B. Pearson award as the most outstanding player as voted by the player's association and the Art Ross Trophy for leading the league in points. He dominated almost every statistical category including goals (65), points (112), game-winning goals (11), even strength goals (43), power play goals (22), and shots on goal (446).
Alex also set a number of franchise records that year, including goals in a season with 65, surpassing Dennis Maruk's mark of 60 in the 1981-82 season. He also set team records for even strength goals, power play goals, and shots on goal. His 112 points are second all-time to Maruk's 136 and his 11 game-winning goals are tied with Mike Gartner for second (Peter Bondra had 13 during the 1997-98 season.
---
Mike Green
Like other offensive defensemen before him (Larry Murphy, Kevin Hatcher), Mike Green was a polarizing figure. Some fans loved him, some fans... didn't. When he was on his game, he was one of the best puck movers and point producers in the league. But many think that he may have taken too many chances, and when they didn't work out the puck often ended up in the Capitals end, if not the back of their net. One thing is for sure, he was one of the best goal-scoring defenseman of his generation. While with the Capitals, he led the league in goals by a defenseman three times (2008-09, 2009-10, 2012-13) and points by a defenseman twice (2008-09, 2009-10).
In 2008-09, Mike Green became only the second defenseman in 20 years to score 30 goals in a season (the other being Kevin Hatcher in 1992-93). He started the season red hot with four goals in six games. After missing 11 games because of injury, he returned on Dec. 12 with a three point game and never looked back, finishing with 31 goals and 73 points. On Feb. 14, he set an NHL record for defenseman with goals in eight consecutive games.
---
2010 President's Trophy
The Capitals finished the 2008-09 season with 50 wins and 108 points. With their top four players all under the age of 25, the 2009-10 Caps were set to have their most successful season ever. Throughout the first half of the season, the Capitals hung around the top 5 of the league. Beginning on January 13 (a shootout win over the Florida Panthers), they went on a 14 game winning streak that put them into first place overall. It wasn't until February 10 (an overtime loss in Montreal) that they would lose a game. The streak still stands as the franchise record for the most wins in a row. The first and last games of the streak were overtime wins, but the middle twelve were all won in regulation - also a franchise record. The Capitals were able to maintain their lead through February and March and then finished 5-1 in April for a record of 54-15-13 and 121 points. This was the Capitals first President's Trophy and arguably their most successful regular season ever. They finished with more points and fewer regulation losses than any other season in franchise history including both the 2015-16 and 2016-17 teams.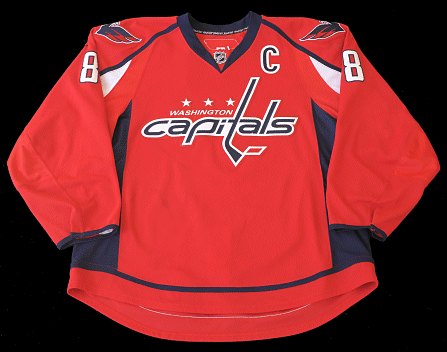 This jersey was worn by Alex Ovechkin during the Capitals 14-game winning streak in the 2009-10 season. He wore the jersey for 12 games and had 10 goals and 14 assists for 24 points in those 12 games.
---
Braden Holtby
In 2010, the Capitals had three of the best young goaltenders in the league in Semyon Varlamov, Michal Neuvirth and Braden Holtby. As Varlamov dealt with injuries throughout the 2010-11 season, Holtby got called up from Hershey to back-up Neuvirth. He took full advantage of the situation and outplayed Neuvirth in two of his three stints with Washington, but Neuvirth still got all 9 playoff starts. For 2011-12, the Caps sent Varlamov to Colorado and signed veteran Tomas Vokoun, leaving Holtby as the odd man out. An injury to Vokoun in late-March gave Holtby another chance though it seemed as if Neuvirth once again would be the starter throughout the playoffs. A Neuvirth leg injury a week later put Holtby at the top of the depth chart for game 1 of the playoffs. Holtby and the Caps would face the defending Stanley Cup champion Boston Bruins with Conn Smythe and Vezina trophy winning goaltender Tim Thomas at the other end. No chance, right?
All Holtby did was stop 72 of 74 shots in the first two games in Boston. Thomas was just as good at the other end and the series was tied 1-1 coming back to Washington. After a letdown in game 3, Holtby came up huge in game 4, stopping 44 of 45 shots. After splitting games 5 and 6, the pressure was on the Caps in game 7. Holtby did his part to stop 31 of 32 shots and a Joel Ward overtime goal gave the Capitals one of the biggest upsets in their franchise history.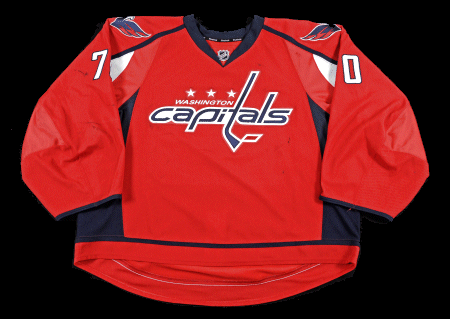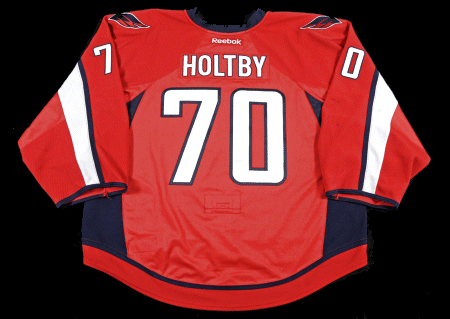 This jersey was worn by Braden Holtby during the entire 2011-12 season and playoffs, including their first round upset of the defending Stanley Cup champion Boston Bruins.
Holtby continued his stellar play in round two against the Rangers, but the Rangers got the better of the Caps in game 7. Holtby finished the 2012 playoffs with a .935 save percentage and had cemented his spot as the team's starting goaltender. Since then, he's captured a Vezina trophy, a Jennings trophy, tied the record for most wins in a single season (48) and won a Stanley Cup.
---
Nicklas Backstrom - Assist Leader
Nicklas Backstrom wore this jersey on March 15, 2015 when he assisted on John Carlson's power play goal at 12:43 of the first period. That assist gave him 419 for his career, and made him the all-time assist leader in Washington Capitals franchise history. He passed Michal Pivonka, who finished his career with 418 assists.
---
More President's Trophies
The 2015-16 Washington Capitals finished with 120 points - 11 points ahead of the next highest. They were the first team with 120 points since the 2009-10 Capitals and the first team with 56 wins since the 2002-03 Detroit Red Wings. They had winning streaks of 5, 6 and 9 games all before January 1. Alex Ovechkin won the Rocket Richard Trophy, Braden Holtby won the Vezina Trophy and Barry Trotz won the Jack Adams Trophy.
The 2016-17 Washington Capitals picked up right where they left off the previous year. With three 5-game win streaks and one 9-game win streak, they finished with 55 wins and 118 points. Individually, only Braden Holtby won an award - The Jennings Trophy for the fewest goals allowed. Nicklas Backstrom finished second in assists and fourth in points. Brooks Orpik, Dmitri Orlov and T.J. Oshie finished fifth, sixth and seventh in Plus/Minus and for the first time in 12 seasons, Alex Ovechkin shared the goal lead. He and T.J. Oshie each had 33 goals.